SGT: Super Hygienic Technology
The product we are especially proud of is our Super Hygienic Technology (SGT).
This includes Interior Corner Closer Equipment, Exterior Corner Closer Equipment, and Ceiling Closure Panels which fill the gaps around the screw and rivet holes, the areas most suitable for fungus and bacteria to breed. SGT is the latest invention developed by Cooling Line. We have not stopped developing new products with advanced technology to serve all our Customers requirements.
Energy Saving
Cooling Line applies microprocessor - based inverters and programmable controls to compressor motors and cooling apparatus, with awareness of energy saving and reduced production costs for our customers.
Advantages of Inverter Use
Adjustable speeds to serve each working requirement.
Delays wear and tear of the compressor and prevents motor damage.
Decreases surges at the commencing stage and also lowers energy consumption, which is advantageous to our customers.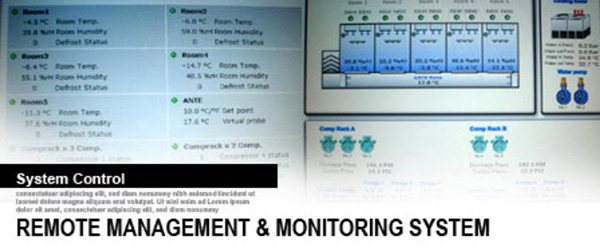 Remote Management & Monitoring System
Cooling Line uses a temperature record system with cooling apparatus management to additionally facilitate the usage to customers, so that customers can easily know the temperature in their cold storage unit and the working condition of the cooling apparatus.
Advantages of Remote management & Monitoring system
Real time record of temperature and humidity in our storage systems.
Printable graph record of the temperature and humidity in our storage System.
Able to check past information.
Able to check information online.
Able to set the functions of the cooling system such as temperature and humidity change, configuration resetting, evaporator defrost etc, by computer.
Alarm warning of abnormal functions of the Cooling System.
Alarm Warning through SMS, fax and printer.